Unlock Sprint HTC Evo 4G to Boost Mobile
This guide will show you how to flash/unlock HTC Evo 4G to Boost Mobile and is easy to follow. All the features below will work properly on your newly converted HTC Evo 4G to Boost Mobile phone. The guide is 35 pages, contains 3 steps, detailed instructions, 70 images, direct links to root your HTC Evo 4G phone, how to enable free wireless tether and all the programs needed to fully flash your phone. You will instantly be able to download the zipped file after you have paid. So there is no waiting for a email. All the programs in the file are up to date. You will need to have Boost Mobile service and a CDMA Boost Mobile donor phone. Click here to view a list of known working donor phones. We keep all of our "How to guides" updated and add new content to make it easier for the flashing/unlocking process. The zipped file is 28MB. Please give it time to download on your PC. If you have any questions please click here. To view our refund policy lease click here.
MMS and SMS will work.

Data speeds 3G.

Making and receiving phone calls.

$50 unlimited data plan.

Fully functioning Android Market.

Native Sprint apps like "Sprint TV" will work on your flashed Boost Mobile HTC Evo.

Full root for Hboot versions 2.15.0001, 2.16.0001 and 2.18.0001.

How to enable free native wireless tether "Sprint hotspot".
Update's:
9/21/2011

_

HTC Evo 4G to Boost Mobile guide.

Added (42) MEID & (60) ESN locations for radio 2.15.00.05.02

10/13/2011

_HTC Evo

4G

to Boost Mobile guide. Added (10) MEID & (12) ESN locations for radio 2.15.00.08.08. Scanable memory locations were also added.
10/26/2011_HTC Evo

4G

to Boost Mobile guide. Added Auto Root for HTC Evo 2.3 and direct links to our how to videos via our guide.
12/9/2011_HTC Evo

4G

to Boost Mobile guide. Added 27 screen shot images. The guide is now fully illustrated.
01/25/2012_HTC Evo

4G

to Boost Mobile guide. Added solution for "Error Code 16", how to root HTC Evo 2.3.3, Voicmail fix and how to enable Native "Sprint Hotspot" tether app.
03/07/2012_HTC Evo

4G

to Boost Mobile guide. Added 18 new screen shots, reformatted the download file from 99MB to 46MB increasing the download speed and added a new flashing method(EFS Hack) the easiest method for flashing the HTC Evo.
04/09/2012_HTC Evo

4G

to Boost Mobile guide. Added root method for HTC Evo Hboot 2.18.0001 and how to fix error code 67.
6/27/2012_

HTC Evo

4G

to Boost Mobile guide

. Added 2 follow along videos for Step 1 in the guide and Step 3. Videos our hosted on our seperate video site.

9/14/2012_

HTC Evo

4G

to Boost Mobile guide

. Added how to install "HTC DIAG Drivers" on 32/64 bit machines, 33 screen shots, OTA(Over the air) Programming method you will no longer have to manually write HA/AAA passwords or NAM files to the phone. We have removed 1 step from the guide shorting the length of time it will take to flash your phone.

7/18/2013_All HTC Evo 4G to Boost Mobile guide updates will be added to our Tech Support FAQ page here as a solution.
Our Guide VS others on the web.
Our guide is written by a professional flashing technician and then tested by a average consumer. It is nothing like the other guides floating on the web that cost $20, $50 or the ones that cost $5. We have seen these guides and we have fixed the phones that these guides have semi bricked. Just Google "White screen Bootlooping HTC Evo after writing NV items". All the guides we have seen to date are missing key instructions and all of them are written by one author and re sold at various prices. Even worse all the guides are poorly written with out of date software and broken website links. Our guide includes all the programs needed and even include extras such as a Auto root program. To Root your HTC Evo. We also ofer the best tech support on the web. If you have questions we have answers. We have the answers because we wrote the guide and have fully flashed Sprint Evo's. We fully stand behind all of our products.
Add on options.
Mail in service:

If you do not want to flash the phone your self you can mail it to us and we will flash it for you. This is a fast and simple process the turn around time is 24 hours and shipping the phone priority means the phone will be out of your possession for no more then 5 business days. We activate the phone to your Boost Mobile account or set up a new account with the phone number of your choice. To select our mail in service please select the option below.
Rush Express mail in service:

Express mail in service is the fastest way to have your phone mailed. It will be out of your position for three days via USPS (This is assuming you mail the package to us via priority 2 day shipping we return ship with Express 24 hour mail service). This service also includes free $200 shipping insurance when mailed back.
(This service is under construction new pricing coming soon)

New Boost Mobile service:

This option is a new Boost Mobile line that includes activation charge, your choice of phone number and $5 credit. Please allow 1 hour while your account is set up. If you purchase this with a mail in service we activate your Boost Mobile account when we convert your phone. All your Boost Mobile account information will be emailed to your email address.
Remote flashing service:

Remote flashing service is a service we provide to remotely flash your phone to Boost Mobile. We do this by using a remote desktop sharing program. It is very easy to use it will work with Windows XP, Windows Vista and Windows 7. This program allows us to use your computer to flash the phone from our computer. This service takes 2-5 hours but you do not have to do nothing more then plug/unplug your phone and check emails we send you. You are in constant contact with us via instant messaging. If you purchase this service you will need to schedule a appointment for a technician to do this. If you have questions about this service please contact us. To select our remote flashing service please select the option below.

Donor phone is included and will be mailed out to you after flash.

To review the remote desktop sharing program we use click here.
Below is a preview of our
How to flash HTC Evo on Boost Mobile guide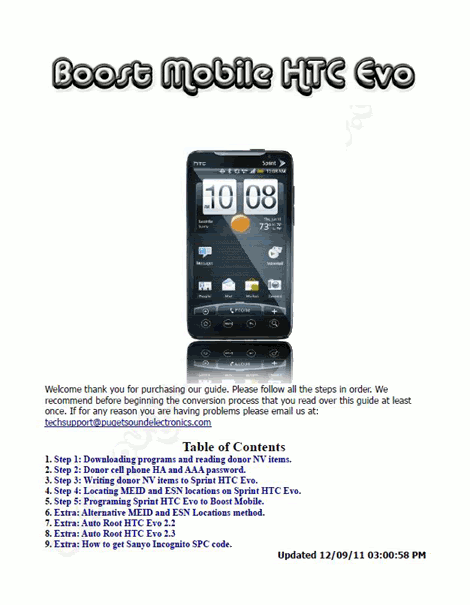 Best Values
Related Items